Tender Form
Corrigendum
Faculty Advertisement No. 2/2010
MBARD Admission 2011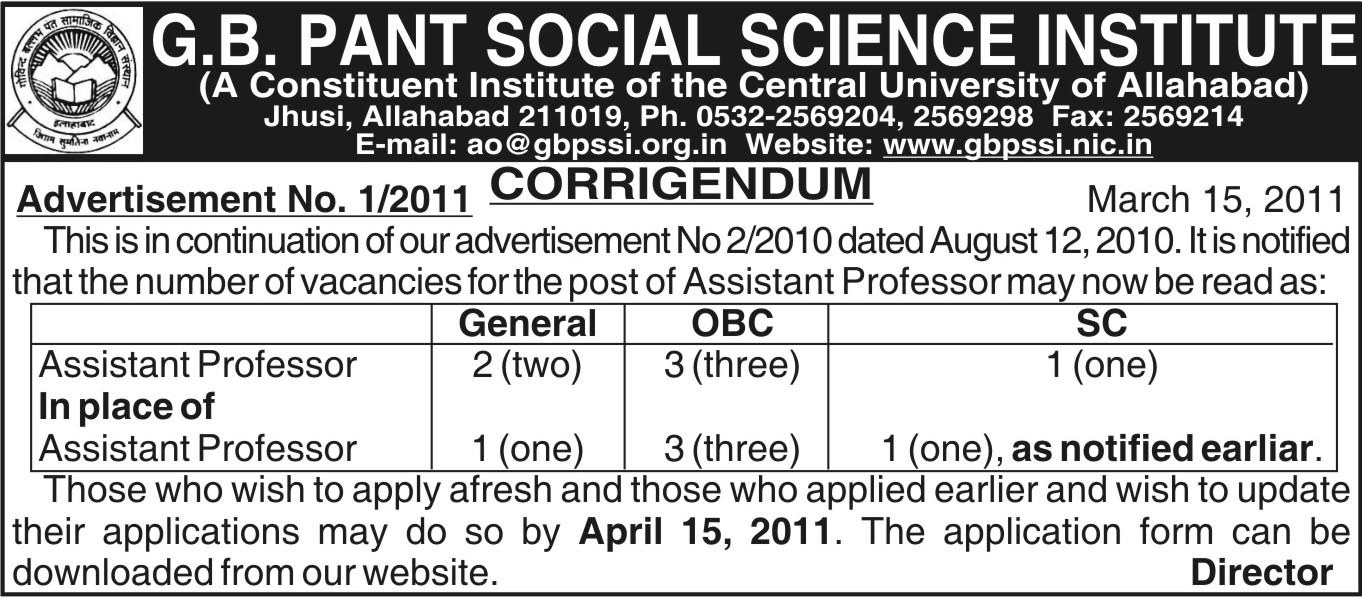 Top

Govind Ballabh Pant Social Science Institute
(A Constituent Institute of the Central University of Allahabad)
Jhusi, Allahabad-211 019

Ph. 0532-2569204, 2569298 Fax: 2569214 E-mail: ao@gbpssi.org.in Website: www.gbpssi.nic.in

Advertisement No. 2/2010
August 12, 2010

Download Application Form

The G.B. Pant Social Science Institute is devoted to research in Social Sciences. It has a doctoral programme in social sciences and shall soon be introducing an M. Phil Programme in Development Studies. It also conducts a two year teaching Programme in MBA (Rural Development). The thrust areas of research in the Institute are the following: (a) Development, Planning and Policy; (b) Population, Environment and Health; (c) Human Development (d) Rural Development and Management: (e) Democratic Processes and Institutions; and (f) Power, Culture and Change. The Institute is recruiting faculty for its core positions as well as tenurial / temporary positions for its teaching and research programmes.

Applications are invited for positions of Professors, Associate Professors and Assistant Professors with proven research record in thrust areas mentioned above and other related areas. Persons with Doctoral degree and Masterís degree in any of the social science subjects including Anthropology, Economics, Geography, History, Political Science, Public Administration and Sociology may apply. Minimum qualifications and pay scales will be as per UGC norms. Selection for senior positions may not be restricted to the pool of applicants. Contractual appointments on deputation or otherwise may also be considered.

The number of vacant positions is as under:

Professors 6 General 1 SC
Associate Professors 5 General 1 SC
Assistant Professors 1 General 3 OBC 1 SC

The Institute also invites applications from social scientists for a few positions of Senior/Visiting Fellow to pursue independent research on a subject of their choice in their respective area of specialization for a period up to two years. A Senior/Visiting Fellow shall be an eminent scholar who may be interested in carrying out research in areas of interest to the Institute. The Senior/Visiting Fellow shall submit a research proposal along with his/her bio-data for consideration of the Selection Committee.

Applicants with proven research and/ or teaching experience may submit their applications by registered/speed post. The last date is September 15, 2010.. Applicants may also email their applications (along with the post) to ao@gbpssi.org.in. Application form may be obtained by writing to the Administrative Officer of the Institute or downloaded from the Institute's web site. Those who have applied in response to the Advertisement No. 1/2005 dated 21/05/2005 and Advertisement No. (5) (Dec) 2007 and are willing to be considered should apply again.
ADMINISTRATIVE OFFICER

Top



ADMISSION NOTICE

Govind Ballabh Pant Social Science Institute
Jhusi, Allahabad

ADMISSION TO 11th BATCH - 2011
MBA Rural Development



The G B Pant Social Science Institute is conducting an Admission Test for its two-year full time MBA Rural Development (MBA RD) Programme. The MBA RD degree is awarded by the Central University of Allahabad. There are 27 courses spread over four semesters. Students acquire knowledge and skills through an appropriate mix of lectures, field visits, practice and experiential learning. An innovative learnig process has been designed for the course.

Download Application Form Download Admission Notice

How to apply

Download the application form from this website www.gbpssi.nic.in and submit the filled in application with demand draft of Rs. 1000/- (Rs. 500 in case of applicants belonging to SC/ST categories) infavour of the Director, G B Pant Social Science Institute, payable at Allahabad. Late fee is an additional Rs. 500/-. Application form could also be obtained through post by sending a self addressed envelope affixed with stamps of Rs. 22/-.

Completed application form be sent to:
The Coordinator (MBARD Admissions)
G B Pant Social Science Institute
Jhusi
Allahabad - 211 019
Uttar Pradesh

Last Date for submission of duly filled in application form: March 31, 2011
Last date for submission with late fee: April 15, 2011

Written Examination: Sunday, May 08, 2011
Group Discussions and Personal Interview will be held in May 2011 and results will be declared on or before May 31, 2011.

Minimum qualification for Admission

The minimum qualification for admission to the MBA (RD) programs shall be graduation from a recognized institution. (Degree Course of at least three years duration with separate annual / semester examination system) from any stream. Students appearing in the final year examination of the undergraduate class shall also be permitted to apply, subject to the condition that they furnish their final graduation pass result not later than the date specified.

For Foreign Students:

Admission of foreign national shall be made strictly as per recommendations of the foreign students advisor of the University as supernumerary seats. Foreign students recommended from time to time by the Government of India shall be admitted without Admission Test.

Seats: 46 or as decided by the University Admission Committee.

Reservation: As per Central University of Allahabad Rules.

Degree: The MBA RD degree is awarded by the Central University of Allahabad.

Requirement to Appear for Admission Test

All applicants, except the foreign national applicants appling throught proper channel shall have to appear in the Admission Test.

Admission Procedure:

The admission to the MBARD courses shall be based on Admission Test comprising Written and Oral Tests. Based on performance in the Written Test, shortlisted candidates shall be required to appear in Oral Test conducted for MBARD programme. The number of shortlisted candidates for the Oral Tests shall be decided by the Admission Committee. All tests shall be conducted only in English medium.

Written Tests (800 Marks):

The written tests shall judge applicants for proficiency in written communication, intelligence, propensity to observe facts and use them, propensity to grasp and use quantitative and scientific tools, general awareness, logical thinking, reasoning power, aptitude for management learning and practice, and maturity in terms of personality development. There shall be four tests as follows:

i. Communication Ability in English - 200 Marks
ii. Aptitude and Reasoning - 200 Marks
iii. General Awareness - 200 Marks
iv. Quantitative Aptitude - 200 Marks

Provided that there shall be negative marking for wrong answers, in pursuance of which, while 4 (FOUR) marks will be awarded for every correct answer and 1 (ONE) mark would be deducted for every wrong answer.

Oral Tests (200 Marks):

Shortlisted candidates shall be required to appear in the oral tests at G.B. Pant Social Science Institute.

The oral tests shall comprise the following:

Group Leadership (100 Marks):

The testing shall be done by grouping the applicants in viable groups and conducting discussion on chosen themes to test the applicant's leadership ability, group behaviour, and adjustment with group dynamics.

Personal Interview : 100 Marks

Final List of Selected Candidates:

The final list of selected candidates shall be drawn on the basis of overall performance of the candidates in the written and oral tests for relevant social categories.

Provided that a candidate has to appear in all parts of the written test and all the oral tests; thus, a candidate, who is, for whatsoever reason, absent at one or all the oral test(s) shall not be considered for final selection for admission.

Final result shall be declared on official website of GBPSSI and placed on the Notice Board of the Institute.

In case of Tie

While drawing the list if finally selected candidates a tie between two or more candidates securing identical score shall be decided as follows:

Score in the Written Test . In case their being same,
Percentage marks scored in Graduate Examination. In case of it being same,
Percentage Marks scored in Intermediate or its equivalent Examination. In case of it being same,
Percentage Marks scored in High School or its equivalent Examination. In case of it being same,
By drawing a lottery.

If a student fails to collect the intimation or deposit the fee by the required date normally he/she shall not be granted extension of time and the vacancy so created shall be filled up by the waiting list candidate in order of merit.

Test Centres:

The written tests shall be held at Allahabad and Gorakhpur. The candidate shall have the option to appear from any one of the specified centres. In case the number of applicants opting for a centre is less than 25, the Institute shall have the right to cancel that centre and direct the candidates to appear from other centre in order of preference registered by them in their application forms or as decided by the Institute. The oral tests (Group Leadership/ Personal Interview) for the short-listed candidates shall be conducted only at Allahabad. The candidates shall have to make their own arrangements for travel and stay for appearing in the written and oral tests and shall not be entitled to any TA/DA.

Professional Fee and other charges: Click here
Administrative Officer
Top