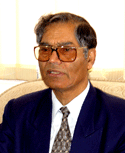 Prof. G.K. Chadha, Ph.D., D.Litt.
CEO, South Asian University, New Delhi
Member of the Economic Advisory Council
of the Prime Minister of India
Emeritus Professor and former Vice-chancellor, JNU

Backed by an exceptionally brilliant academic record, Prof. Chadha has been engaged in teaching and research for nearly 38 years now. He has written 16 books besides contributing 90 research papers to national and international research journals on various development issues relating to India and other developing countries of Asia, notably Indonesia and China. He was a Visiting Fellow at Institute of Development Studies, University of Sussex, England, a Visiting Research Fellow at Institute of Developing Economies, Tokyo, and a Visiting Professor at University of Mauritius and is currently an Honorary Professor at Shenzhen University, China and Nihon Fukushi University, Nagoya-Japan besides being a member of the International Advisory Board of the Centre for Development Research, Colombo. Prof. Chadha has been a Consultant to several international development organizations including United Nations agencies such as FAO, ILO, UNCTAD, ESCAP, etc. besides serving on numerous other international and national expert committees. He has been honored with numerous awards and distinctions for his contribution in the field of education the latest being the D. Litt Degree (honoris causa) conferred by Panjab University, Chandigarh. He has recently been elected as the President of the Indian Economic Association. Earlier, he was the President of the Indian Society of Agricultural Economics as well the Indian Society of Labour Economics.